The age of the Outdoor Room has arrived. Imagine watching the fall leaves turn bright red and gold while sipping hot chocolate in front of a roaring fire, all set to the music of a beautiful waterfall. Yep, it's perfect!
Designing a fall outdoor living area is completely different than fashioning an indoor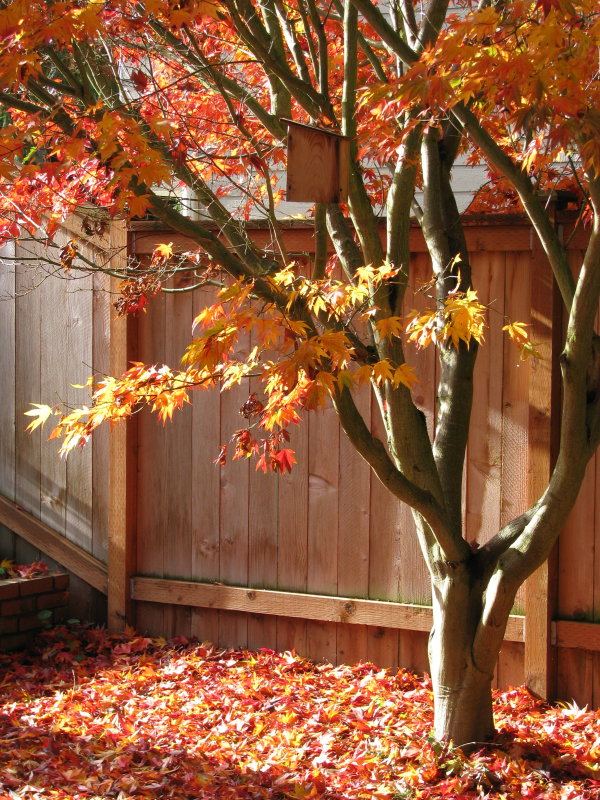 space. Your outdoor area actually has no boundaries. The sky, the trees, and even a lake are now your backdrop. By capitalizing on your usable outdoor space your family can get even more enjoyment from your home. With a little extra attention it can also be neatly arranged to fit any entertaining lifestyle.
When creating outdoors living spaces, the typical indoor decorating ideas are tossed out! Landscapes that transition smoothly from indoor to outdoors have become very popular. The wide-open space of the yard can seem a little overwhelming and quality fence from the Hurricane Fence Company will be the first element to begin building the overall look. The fence you select will serve the purposes of space delineation, noise reduction, and property security for your family and belongings. Traditional wood privacy fences can buffer street noise that may disrupt your shaded afternoon nap. Choosing a coated ornamental aluminum or vinyl fence material provides a low maintenance solution coupled with beauty and privacy. These quality fence products now come with lifetime warranties and in a wide variety of styles and colors that can create an impressive backdrop for your new space.
An actual outdoor room can be created with pagodas and specialty railings. Furniture for this space should be luxurious and comfortable. You can even select colors that may seem more whimsical that you would risk inside your house. Make sure to get UV conscious and weather sturdy cushions for your patio furniture. This will reduce cost later and the best quality cushions will hold their shape while providing long lasting comfort.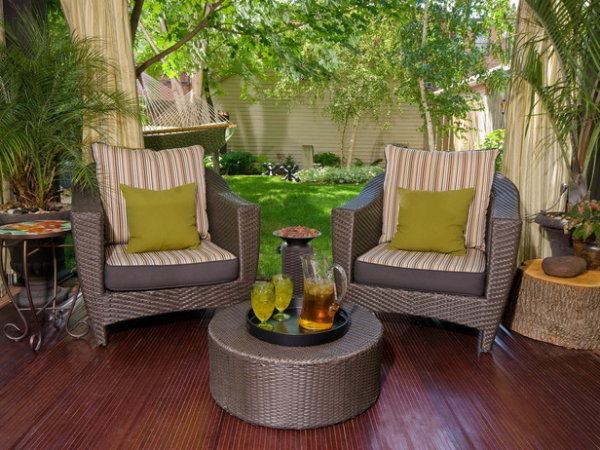 Adding decorative lighting and a heat source will make the space even more welcoming. Fire pits, chimineas and patio heaters can keep you and your guests warm and cozy long after the season has changed. Gaslights and torches are great because as flame moves it brings shadows to life. Pools of light are what you want to achieve whenever you are adding the final details. The lighting should come from a variety of sources on varying levels. You might have a few solar lights placed at the perimeter fence of your lawn and add some well directed spotlights. It's really like an outdoor art! Lastly, consider the sun's effect during shifting seasons and at different times of the day.
Ponds, pools, and spas will all add luxury and water sounds that can further enhance your backyard space. Pool fencing is a primary concern with those enhancements as it is with the creation any outdoor living space.
Hurricane Fence Company's residential division always offers high quality and attractive yard and pool fences. As the area's only authorized dealer of Active Yards fencing products. We offer Vinyl, Aluminum, Wood, Privacy, and Chain-link fence styles to suit your entire backyard fencing needs. Our owner operated on the ball design and installation fence teams take personal pride in serving all of our customers and their precise needs.