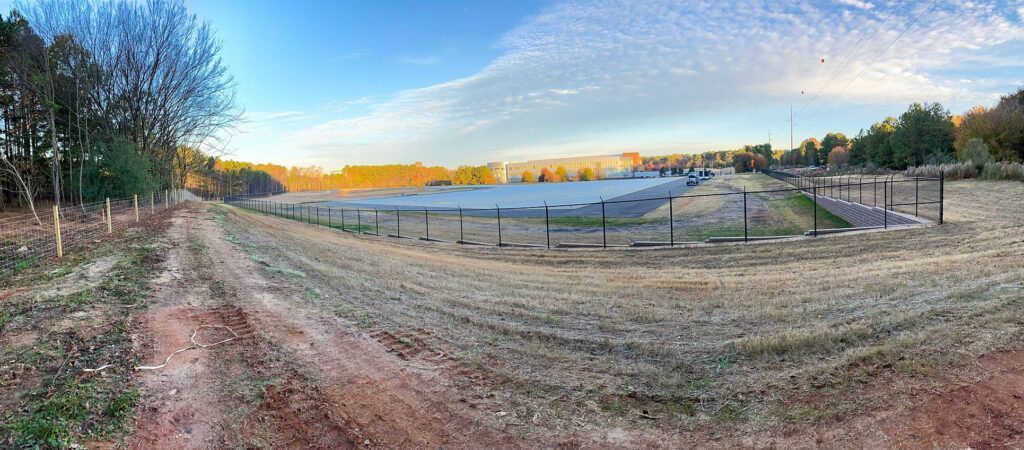 Our North Carolina Team recently completed this stellar project with the North Carolina National Guard, providing the exact security they needed for their facilities. This project has multiple different types of fencing - nothing that our team can't handle! This blog's purpose is to break down each style of fence our team installed, as well as it's primary security purposes.
Retaining Wall Fence
Retaining wall fences are normally installed to prevent people from climbing an existing wall to enter a secure property. Our team drilled posts into the existing brick retaining wall and then stretched chain link wire along the entirety of the area. Barbed wire was also installed on the top of the chain link, adding even more security.
Barrier Cable
Barrier cable is not something used everyday, but for a high security facility it is a must! Barrier cable is installed on a fence in order to prevent a vehicle from driving through the fence. The barrier cable is very much so less forgiving than the chain link and the chain link posts, so for a national security facility it was the best choice!
Chain Link Mow Strip
Not necessarily for security, but something unique to this project was the mow strip installed below the chain link fence. Mow strips are installed to make it easier for landscaping to be done - eliminating the need to trim and weed eat under the fence and around the posts which ultimately could cause damage to your fence.
DOT Fence
DOT fencing can be installed for many purposes, all really depending on what your client wants. Our client in this case wanted it installed around the perimeter of the entire facility, closer to the woods, as a second barrier before reaching the chain link security fence we also installed. A main focal point for this fence was to prevent animals from getting onto the property.