| | |
| --- | --- |
| | The reasons for installing a professional fence system at a commercial property are very similar to the reasons for building a fence at one's home.When you move into a new home, one of the first structures that you will consider is the addition of perimeter fencing for your yard or landscape. |
It's simple. A high quality, sturdy fence will be highly effective in keeping pets and kids inside your yard safe, and other animals or intruders out. It will improve the appearance of your home, and will enhance privacy and aethetic in the yard. These same benefits, Security, Improved Appearance and Privacy are equally applicable to a commercial enterprise.
Security
Security is usually the first reason that people will install fencing around their business. Considering cost as well as effectiveness, chain-link fencing is generally considered the best fence for commercial purposes.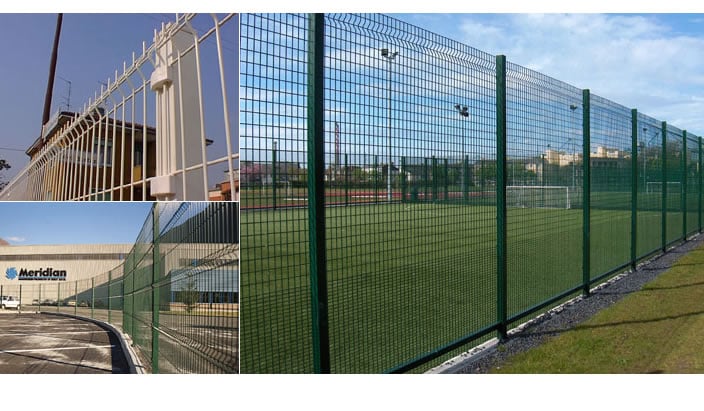 The primary benefit of chain-link fence, strong yet see-through, makes it most effective for security purposes. For the same reason, ornamental fence also makes fine security fence. However, while wrought iron is much more attractive than chain-link fencing, it is also much more expensive.Avoid solid barriers when erecting security fences.While a visual barrier is desirable when erecting privacy walls, it is counterproductive for security fences by offering intruders an easy place to hide.
______________________________________________________________________________
Above Left: Brick arches and steadfast

ornamental aluminum fence

solutions are great to look at but may may hinder your efforts to fully protect employees and inventory by providing places for would be intruders to hide.

Above right:

Bollards

are much better suited for permentant traffic deterrance and places where large crowds and automobiles may gather regularly.

Privacy
| | |
| --- | --- |
| Depending on the type of business you own, privacy might be an issue. A business owner located in a residential community may seek the privacy and appearance of privacy board on wood fence or vinyl fence. | It can also be true if you own an apartment building or high rise.Shopping areas that are adjacent to residential settings often these. This can be the case with business owners like lawyers or accountants who would like to ensure privacy for their clients. |
| | |
| --- | --- |
| Appearance | |
| | |
While privacy and security are the top reasons why many businesses will choose to have a fence installed, curb appeal is another benefit. There are many attractive commercial fence options that will accentuate your property and keep your business safe.
The appearance allows you to put your best face forward when potential customers come by. Ornamental fencing is often a popular choice for this purpose.
Rural businesses might prefer a wood fence that will fit better with the style of the property.
Vinyl fencing is also becoming another popular choice because it requires less maintenance than wood and can be used to complement a number of styles.
There are many sound reasons to add fencing to your commercial property - additional security, improved privacy, and enhanced appearance of your perimeter area are but a few.
It is important to note that the quality of fence installation is crucial to these benefits. Always make sure that you are using a licensed and experienced fencing contractor when considering the addition of a fence system to your commercial enterprise.