Vertical lift gate systems are used in situations that do not allow enough room for a simple slide gate or swing gate installation. These gates are adaptable to most limited space and terrain that are present at a site and come in a variety of continuous-duty operational models. Many federal, state, and local governments utilize vertical lift gates as the key form of entry. Mini-storage facilities, residential estates, gated communities use this style of gate as well.
A standard vertical lift gate can vary in length from 24' to 26' and in height up to 8' and come in a wide variety of style choices from Arched Estate to chain link, in steel or aluminum. All of the safety and entry devices available for sliding or swinging gates are also readily available for lift gates. Custom and solar gates are also available, but some limitations - such as gate size and traffic volume - may limit the use of these gates.
While there are some ostensible drawbacks to vertical lift gate systems – most notably their high initial financial investment, however their reliability and low maintenance costs offset the expenditure over time. Should a vertical lift gate suffer damage from being struck by a vehicle, repairs can be expensive in comparison to dealing with damaged swing or slide gates.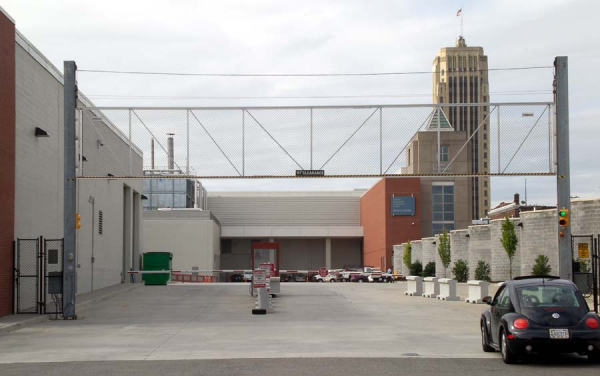 Vertical lift gate systems are quite popular where space and terrain are a challenge. They are also in high demand where initial cost is not an issue. All safety features, including Fire and Police Entry systems, work well with these gates. Lift gates can be UL325 rated, and all their access control systems are compatible with vehicle loop detection and safety systems. Lift gates can also be equipped with various anti-climb materials for security purposes.
As mentioned before, vertical lift gate systems are also popular in residential estates and gated comminutes. These applications are a great fit from a reliability, safety, and speed of operation standpoint. In addition, the low maintenance for this type of gate system makes it hard to pass up when considering the needs of an estate or high volume gated community.
When considering a gate system for individual needs, be sure to consider all the advantages that vertical lift gates bring to the table. If space is at a premium then a vertical lift gate may just be the ideal system to purchase and install.
Article contributed by Michael Fugere.