In Virginia, all commercial entities that use dumpsters must build an enclosure for that dumpster. This law has been in place since 1976. The enclosures and screening must be opaque and constructed out of brick, stone, wood, or some other appropriate material (e.g. aluminum, PVC, or vinyl). Chain-link fences, even with slats, are not approved. When choosing an enclosure material, remember that careful planning will decrease damage claims and prevent frequent maintenance. Wood is a very popular material for enclosures due to the low cost and easy replacement; vinyl and composite are initially more expensive but require much lower maintenance and will not age like wood.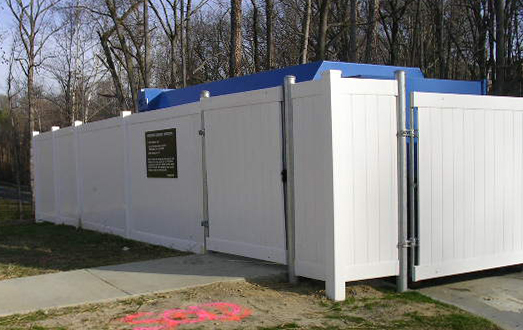 Dumpster security solutions are meant to not only protect commercial garbage from pests, but also to keep the unsightly visual of dumpster bins hidden from public view. Dumpster-enclosures are required to provide a visual barrier from adjoining properties and street as well as stopping trash from blowing out onto adjacent properties/public spaces. Enclosures can be quite attractive, especially when they blend in with the surrounding area by matching the building that is associated with it. The outside walls of the enclosure should be easy to paint in anticipation of graffiti. Another factor to consider is dumpster wheels. If your dumpster is on wheels, you should include a six to eight-inch curb lining the inside of the enclosure. This will prevent damage to the enclosure walls from moving dumpsters. The enclosure should be at least a foot wider and taller than the dumpster(s) inside and should sit on concrete (which is strong enough to support the frequenting garbage trucks). It must not drain into drainage systems.
Gates must be wide enough for garbage trucks to come through and access the dumpster(s). They should open like barn doors, and match the enclosure walls. Enclosure gates should have metal frames and latch into the ground as well as locking to each other when not in use. In colder climates, gates should begin at least six inches off of the ground for allow for snow and other inclement weather.
Before building your enclosure, make sure to consider the following elements when deciding on placement: parking lot proximity, easements, pedestrian right of way, and pathway to the dumpster. Then, contact your city or county's permit office for necessary permits. You must also submit a plan to the Zoning Division Office (http://www.richmondgov.com/planninganddevelopmentreview/documents/ZoningOrdinance.pdf) for review and approval. Contact Hurricane Fence for more information on enclosure requirements for your specific dumpster.
Article Submitted By: Dawn Lowndes