A garden arbor, also known as an arbour or pegola, is a shaded passageway, doorway, or sometimes a walkway, that is found outside, most often in backyard garden settings. Arbors create a threshold into your garden -- creating an elegant, victorian-esque feel. They are usually comprised of vertical pillars or posts connected with lattices and supporting cross beams in the form of an arched top, flat top, or gable (sloping) top.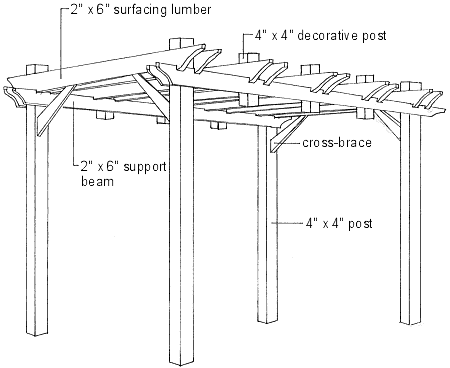 Pegolas can be free standing or may be part of an entryway to and from a fenced-in area – matching the fencing system it is a part of. As an entryway, arbors can be installed with or without a gate. They can also be used practically: filling in a gap where a gate used to be or by filling in a small space in between two hedges. Arbor entrances add visual depth to a yard; and when added to a fence line, will help that fence stand out in a landscape.
 
 
Planting climbing plants around your existing fence and/or arbor, in conjunction with trellises, adds color and variety to your backyard or garden, and also helps add extra privacy by filling in gaps in between fence posts. Trellises are lattice-like metal or wooden structures that are added to arbors or fences for the purpose of allotting climbing plants, fruit trees, or vines, a designated place to grow. They have two main structure types: ladder or fan. Trellises are also perfect for hiding ugly exterior siding apparatuses, gas meters, or the like. Flowers that can easily climb a simple lattice or trellis include: clematis (purple/blue flower that blooms several months of the year); climbing hydrangea (large beautiful flowers that attract hummingbirds); morning glory (star-like bright purple blossoms); kiwi vine (produces fruit and small fragrant flowers); and, honeysuckle (grows rapidly and smells great). For a more thorough list of climbing vines and plants, visit this LINK.
 
Arbor entrances can be constructed out of almost any material (aluminum, vinyl, wood, wrought iron, stone, and steel) in a wide range of sizes to match the surroundings, conjoining fence line, local climate, and/or outdoor style. There is a lot of variation in the style of the top of the arbor; an arched top creates drama and contrast; a flat top looks great and sets your fence line apart; the gable top looks beachy (when traditionally applied next to a white privacy fence) or oriental (when made of natural wood and using asian-influenced design elements). Larger arbors can be custom made to match any width. They can be fitted with a bench for a garden or a gate to enhance privacy and security in a fence line.
 
Wedding arbors are a temporary form of pegolas which can be bought or rented to create an instant alter for any outdoor wedding. Wedding arbors are typically white and made out of vinyl for easy installation and removal. However, they are sometimes made of natural wood. Wedding arbors can be decorated with flowers or draped with loose fabric to match the color theme of the wedding.
 
Article created by: Dawn Lowndes
 
Hurricane Fence Company's residential division always offers high quality and attractive yard and pool fences. As the area's only authorized dealer of Active Yards fencing products. Â We offer Vinyl, Aluminum, Wood, Privacy, and Chain-link to suit all of your backyard fencing needs.
Servicing the Richmond, Williamsburg, Norfolk, and surrounding Virginia areas.