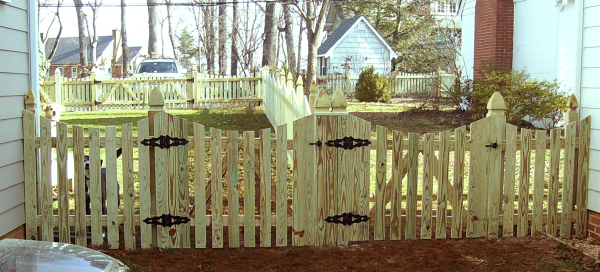 The iconic white picket fence is an integral part of the "American Dream": home ownership, 2.3 children, and a lush green yard with a picket fence. Picket fences are typically made of wooden boards – painted white or whitewashed – but they can also be made out of vinyl (polyvinyl chloride, or 'PVC').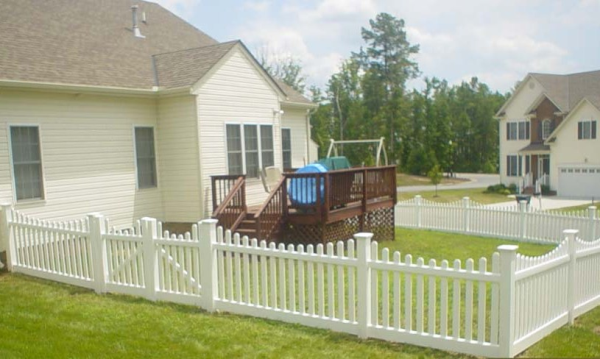 Vinyl fencing is lower-maintenance than traditional wood, and illustrates an updated look. If your picket fence looks to stark against the garden, you can weave flowers and vines throughout the slats in the fence for a more charming and aesthetically-pleasing look.
How are picket fences constructed?
Several pickets (or boards) stand vertically with a one inch or two inch space in between each board and are connected with two or three horizontal slabs. This type of fencing usually defines domestic boundaries and is an aesthetically pleasing way to protect children and pets without obstructing views. Residential picket fencing is charming in a backyard or garden setting as well. They also look great when paired with a matching arbor and/or gate. Picket fences stand three feet to four feet tall. Because they are relatively short and transparent, they are not very useful as privacy fences.
Four foot wood concave and convex picket fences (shown above) with gothic-style posts is one of the best-selling residential fence types. This fence is very popular in subdivisions that have HOA/ARC requirements. The Architectural Review Committee (ARC) and the Home Owners Association (HOA) have certain requirements regarding residential fencing in certain subdivision communities. These design boards want to maintain a fence aesthetic that will "protect, maintain and enhance the value of the property, as well as the lives and lifestyles of their residents". The concave and convex picket fences are perfect in a neighborhood setting because these fences look great on either side. The concave or convex picket fence is 4-feet tall and has gothic or flat style posts.
The gothic fence posts are sturdy, square posts that come to a point on the top – almost like a spade or arrowhead shape. Flat posts simply cap the top of fence posts (some look like a very flat pyramid, sometimes made of wood, copper, or another metal) . The posts we use are 4 x 4 inches or 6 x 6 inches for gates. The convex – or 'arched – fence pickets rises to a crest in the middle of each post. On the other hand, the concave – or 'dipped' – fence pickets sink under in the middle between each post. We use 2 x 4 foot rails and 1 x 4 foot pickets for each fence. We also use double dipped ring shanked galvanized nails and 60 to 80 lbs bags of concrete per post which makes for great durability and minimal required maintenance.
Concave, convex, or traditional picket fence costs about $12.00 to $16.00 per foot. The most common colors for these fences are white and natural wood (almond). The use of # 2 pressure treated pine (PTP) and red cedar pickets is common. as well.
Article Contributed by Richard Belcher