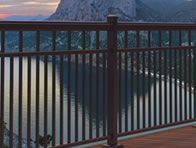 The term "Powder Coating" simply refers to the process by which manufacturers apply a specific protective color finish to metals on ornamental aluminum fence and gates.
The metal fence materials can be dipped in a container of electro-statically charged dry powder or the charged powder is sprayed directly onto the metals. The coated fence material is then placed in an oven where the powder particles are literally melted and then form a smooth continuous finish that bonds to the metal.
A frequently overlooked advantage of the powder coating process is that it is somewhat environmentally friendly. The powder coating process eliminates wet paint solvents acting as a medium that eventually must evaporate into the atmosphere during a paint drying process. If you are environmentally conscious you will be keen on this fact of the powder coating process.
Powder coated aluminum fence is considered to be in the decorative category by fence professionals. It is commonly seen, in your mind's eye, as in common with traditional looking wrought iron fencing. It is manufactured in a variety of styles and colors. It has very broad range of application for uses such as pools, apartments and office buildings and backyards, and countless more.
The powered coating provides a clean attractive finish that protects the actual fence metals from rust and corrosion. This finish is easily cleaned and is meant to last for years of protection and enjoyment.
Ultra Aluminum is a reliable supplier with a comprehensive website that may be of interest to you, our reader. Their FAQ page may be a helpful read for gaining even more detailed knowledge about aluminum fence. Their completely uploaded spec sheet will be a valuable tool for those who are interested in very specific details about aluminum fence product and specifically powder coated products.
Industrial Grade Ultra Powder Coated Fence
Residential and Commercial Grade Ultra Powder Coated Fence
Most manufacturers and professional fence installation company will provide warranties for their aluminum products. Reading the warranty for Ultra Aluminum can give you an idea of what you should, at the least expect, from your fence supplier.
Ultra Aluminum Lifetime Warranty
Ultra Aluminum fencing and railing products are guaranteed for life against defects in workmanship and/or materials. The Powercoat™ finish on all fencing and railing by Ultra is unconditionally guaranteed for life against cracking, peeling or chipping. Feel free to view a copy of the warranty.
Article contributed by fence professional Terry Lewis