Essentially, any type of fence can be modified to meet AT/FP requirements.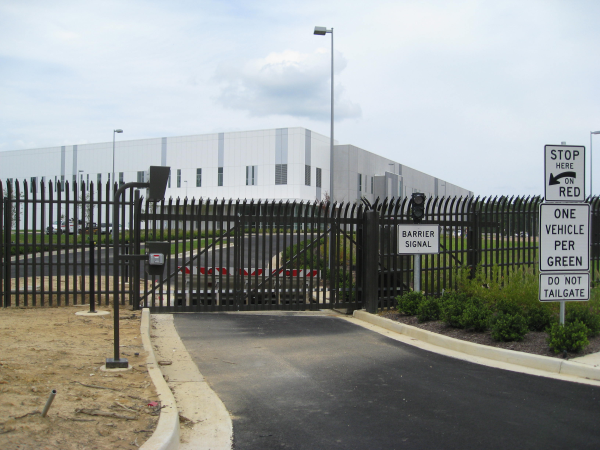 ATFP stands for Anti-Terrorism/Force Protection, as defined by the US Army and other federal entities. This term refers to the amount of force a structure can withstand without being compromised by an incoming attack.
The AT-FP ratings are achieved by reinforcing a fence structure with steel cables that run along the fence, into the ground, terminating in concrete footers. These ratings are typically referred to as crash ratings, or "K" ratings. There are three K ratings that are achievable; K4, K8, and K12. The different ratings refer to the amount of weight the structure can resist and remain intact.
Typically, if business or government institution is going to spend this amount of money on a high tech fence, they may also want a good-looking fence. The most aesthetically pleasing type of fence that can be modified to achieve ATFP ratings is ornamental fence. Ornamental fence is often referred to as "wrought iron", but are in fact made of aluminum or steel. Iron is an outdated material. These contemporary fence alternatives are more economical, as well as outlasting their dated counterparts. These style fences are often found around the perimeter of military institutions, data centers, federal buildings or even schools.
Alternatively, jails and other institutions that must remain secure without the superficial attributes can also apply K rated cables to chain link fences, achieving the same degree of security. These ATFP compliant chainlink fences are usually constructed of 6 gauge wire as opposed to the more commercially applied 9 gauge wire. This thicker wire, coupled with cable reinforcement and either SS 40 or SCH 40 pipe, can achieve AT/FP federal security standards.
While ornamental styles are the most common installations of crash rated fences, even a wooden fence could be modified to reach the same standard. One way to achieve AT/FP compliance in this type of fence installation is to install a line of bollards, again reinforced with steel cables, in front of a wood fence. This would allow it to attain a K-rated fence standard. Bollards are short, vertical posts used to protect potentially vulnerable structures or objects from damage by moving vehicles. Designed for versatility, these posts range in size from 24" to 42" in height, and come in variable diameters to meet a location's specific security requirements. Bollards can be used to maintain a more natural look, while providing crash-rated security.
As you can see, Anti-terrorism Force Protection (ATFP) standards can be met in any number of ways in the fence industry. A knowledgeable fence contractor has the capability to help customers design and build crash-rated fences out any material the customer desires. As our society continues to evolve, so do potential acts of terror, and Top Notch Fence Company's will stay on the cutting edge of technology to continue to provide our customers with ATFP compliant crash rated fences.
Article contributed by Meagan Stone.