Bollards
Bollards are an innovative product that help protect vehicles, properties, and facilities from unnecessary damage. Bollards have posts that are arranged in a row to prevent vehicles from passing into pedestrian areas, storefronts, or buildings. Often you may see a line of bollard installations in close enough proximity to block large vehicles from driving through specific road points, but with enough distance to allow the passage of people and bicycles. Certain bollards are removable and allow for a vehicle to pass through when required. Bollards can stop a 15,000 lb truck traveling 30 mph and can be fixed or removable.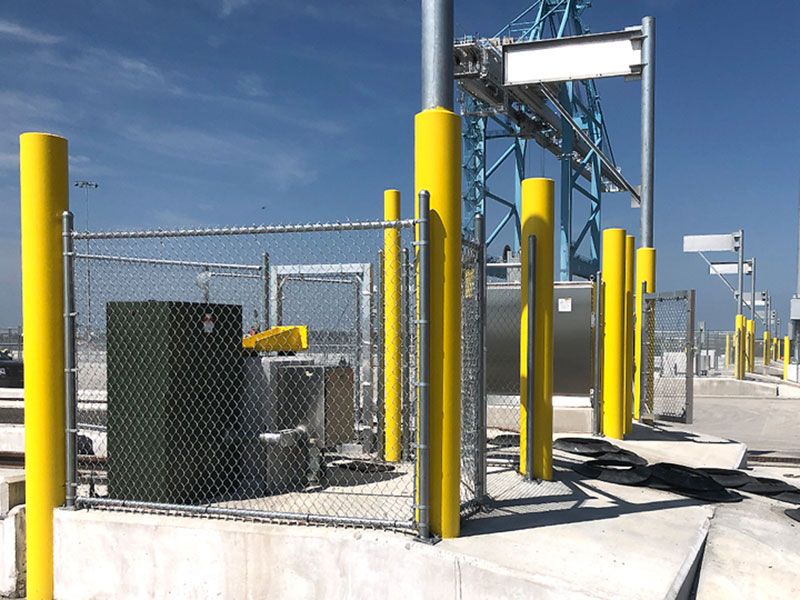 Steel Pipe Safety Bollards
The safety pipe design ensures compatibility for usage inside or outside with a powder-coated yellow finish to create a definitive look. Features include:
Heavy-duty welded steel construction protects racks, building walls, expensive equipment.
Base plate includes pre-drilled mounting holes for quick and easy installation.
High profile design provides added protection to personnel and equipment.
Flexible Bollards
If you are looking for something that will give a little upon reasonable impact, then our flexible bollards are what you need. These units delineate from 360 degrees and will return to their upright position. Flexible bollards are available in permanent or removable units and are offered in a variety of colors and diameters to fit your specific project needs. Installation locations include handicap-accessible parking spaces, loading dock areas, and fire lanes.
Speed Bumps
Speed bumps help reduce motorist's speeds to improve traffic safety. A well-placed speed bump should serve as a reminder to motorists to reduce speeds to 2-5 MPH when crossing over. Plastic and rubber speed bumps are ideal for use in parking lots, pedestrian crossways, residential roads and driveways, and construction work zones.
Gallery
Please select any image to view larger. Feel free to save any images you like to attach to our estimate request form.