Gate Operators
Hurricane Fence Company specializes in a wide variety of automatic gates and access control systems for commercial and government properties. From gated communities to parking management or property access to your business, we can assist you in determining the correct product fit for your specific needs.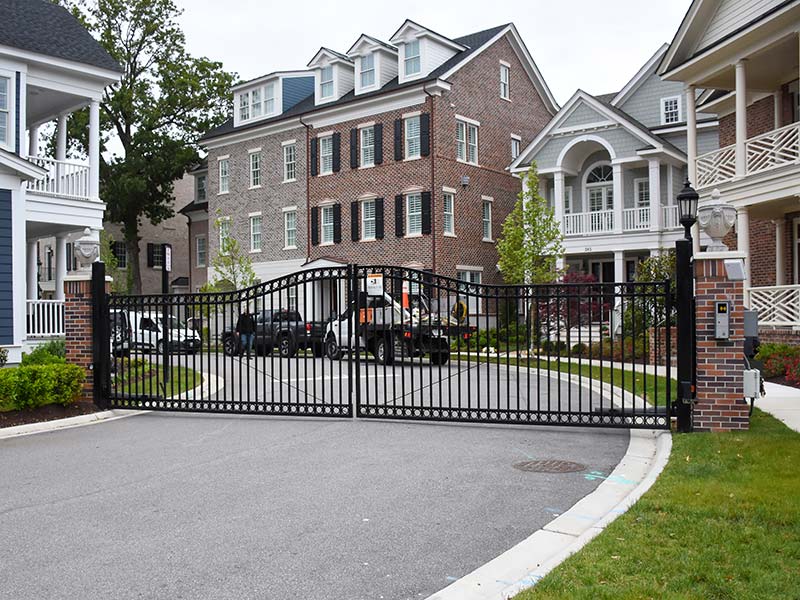 Swing Arm Operators
Swing arm operators are the most common type of swing gate operator and are relatively easy to install. Featuring a heavy metal frame and oil soaked gear boxes, these units are durable and can last 20 years if properly maintained. Swing arm operators typically mount on a concrete pad and have a gearbox driven output shaft that controls a scissor arm to open and close your gate.
Slide Gates
Slide gate applications are commonly used for commercial gate automation systems. These are the most robust style of operators but require a lot more hardware and concrete work to install. A slide gate is an ideal choice when dealing with a steep grade or uneven terrain, especially when you cannot open the gate outwards.
Slide gate operators ride on a track or cantilevered out on pipe track wheels. Most units are chain driven and have the control board housed on board the operator, but a few models use a rack-mounted to the gate that rides on a pinion gear on the operator with a separate cabinet for the control board. Slide openers are available in AC, battery, and solar-powered models. Commercial units are available that can operate gates up to 40' long and weigh several thousand pounds.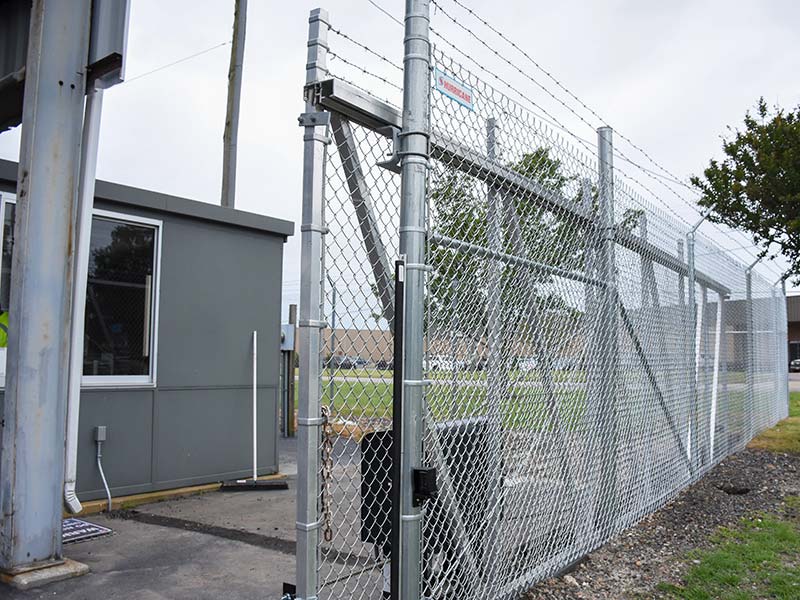 Cantilever Slide Gates
The cantilever gate design is counter-balanced to allow the gate to smoothly slide out in a linear motion, closing an opening beyond its vertical support. It's the perfect solution in environments where a large opening is necessary. Industrial sliding security gates are ideal for locations ranging from airports, railroads, and municipal authorities to commercial facilities, chemical plants, and border stations.
Conventional Roller Gates
The traditional roller gate works well when there is limited or fixed space while still allowing the automation of your entrance. A footing is poured for the length of the gate with concrete, rebar, and angle iron. This allows the gate to roll consistently on the same path, which is less wear on the motor. Steel construction and self-lubricating composite bearings ensure long service life.
The roller gate is designed to reduce the operating thrust with stainless steel wheels that operate on rails. The wheels are sized accordingly and spaced along the side of the gate to support equal portions of hydrostatic load. Resilient seals are attached across the top of the gate and on both vertical sides. The resistant seals are attached with stainless steel strips and retaining bolts for long-term tight sealing.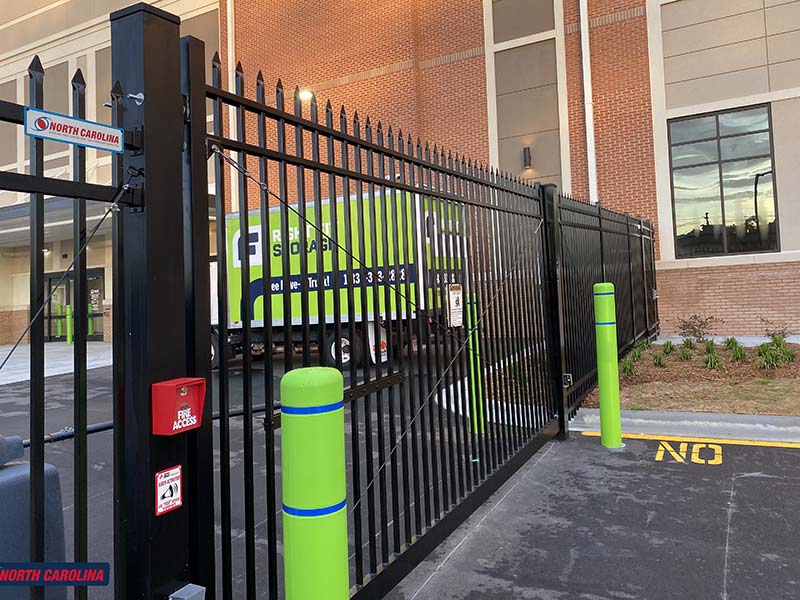 Vertical Lift Gates
This application fits in where a steel swing or slide gate merely can't. The continuous system is the perfect solution for entrances working with a limited amount of space. A vertical lift gate moves upward to open, rather than sideways or outward. With twin lifting columns, one on each side, the gate is raised above the height of authorized vehicles that pass through. There is no space needed to accommodate in front of or behind the gate. The vertical lift gate is one of the most compact, space-efficient gate designs. You can count on the hydraulics and electronics contained in the remote enclosure to raise the barrier, quickly and efficiently moving multiple lanes of traffic.
Vertical Pivot Lift Gates
A vertical pivot gate opens by rotating upward at one lower corner and pivoting 90 degrees upward and resting on its side edge when fully open. The space required to store the gate panel on one side is slightly more significant than the gate height. That's a relatively small amount of storage space on one side while the gate panel is in the open position.
A vertical pivot gate design is most suitable for industrial settings where space to the sides of a vehicular opening is limited and where no overhead restrictions exist. However, there are limitations relative to clear opening width, gate panel height, design flexibility, and the level of security provided.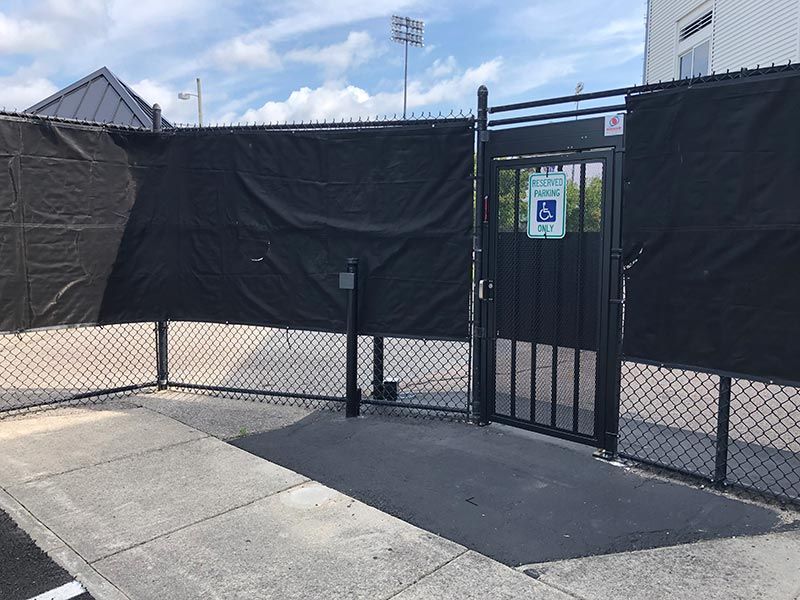 Pedestrian Swing Gates
Two of the most common gate models for regulating foot traffic are the swing gate and the pedestrian portal. Many secure facilities not only rely on vehicular traffic security systems but request or require separate access points for employees and visitors to secure facilities.
At human entrances, swing gates open and extend outward in a particular direction to allow the entry of one person or party at a time. Like its vehicular equivalent, the pedestrian swing gate is like a door in that it consumes vertical space while in use. Swing gate designs are available in multiple material applications such as: chain link, welded wire, and ornamental steel or aluminum.
Turnstiles
A turnstile, also called a baffle gate, allows one person to pass at a time. It can furthermore enforce one-way traffic of people and restrict passage only to people who insert a coin, a ticket, a pass, or similar. Thus, a turnstile can be used in the case of paid access or to restrict access to authorized people, for example, in the lobby of an office building.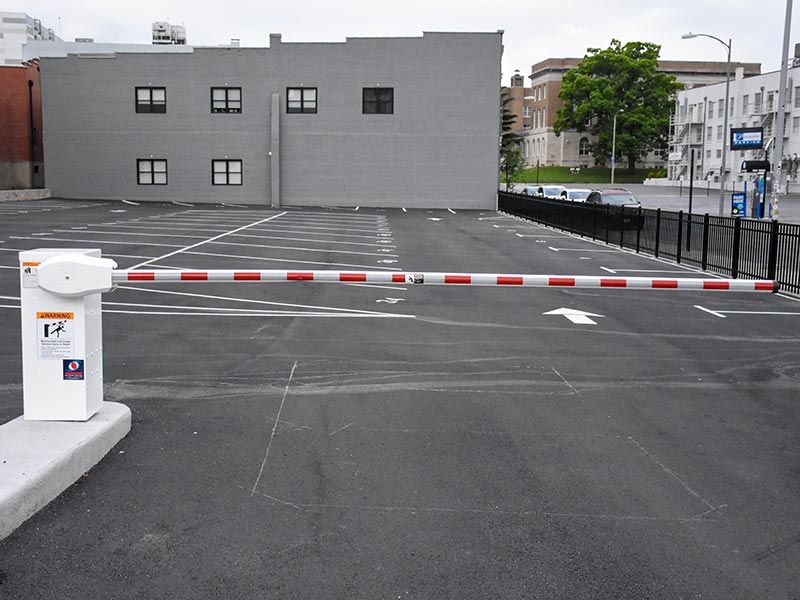 Drop Arm Barrier
A barrier arm is a multi-purpose entry drop-arm that controls traffic while providing an anti-ram obstacle to protect from potential vehicular threats. Barrier arm operators work best for controlling access to parking lots and garages in large business complexes, airports, and public facilities.
These units can be operated automatically by card reader, keypad, telephone entry system, or manually controlled within a guard station or kiosk. You can set up a barrier gate as a one-way lane or for two-way traffic. Many barrier arms are also available in engineered design lengths to fit specific site requirements.
Gallery
Please select any image to view larger. Feel free to save any images you like to attach to our estimate request form.