Guard Rails
Standard guardrail fabrication includes variations of steel, aged stainless steel, and wood. Single and double railing systems are standard guardrail installation options. All guardrails must comply with OSHA standards.
Standard guardrail systems are mounted to the floor by base plates that fastened with anchor bolts. Each guardrail system also includes fabricated steel columns. Columns or posts are pre-drilled by the manufacturer and include the hardware for installation.
Standard galvanized steel systems (12-gauge) provide durability and fabricated in curved, 90-degree variations, for traffic areas. Other variations include cylindrical beams and flatter beams, that feature ribbing.
For indoor and outdoor areas, railings are usually painted OSHA yellow. The type and amount of beam railing vary according to requirements. Railings can consist of one to three beams. Beams are coated with UV resistant polyurethane sleeves.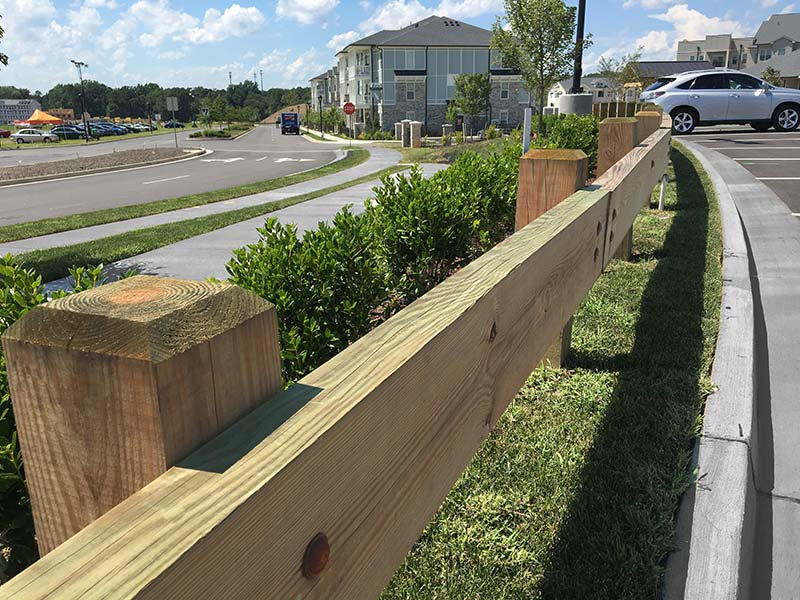 Standard Guardrail Applications
Pedestrian walkway protection
Workstation & transformer area barrier
Protection for equipment from forklift damages
Protecting buildings, walls & doors from vehicular damage
Roadway precautions to prevent & minimize accidents
Guardrail Types
W-Beams Zinc coated and weather-resistant, these standard traffic and highway safety rails and consist of high gauge steel; and protect against environmental conditions.
Drop-in Rails Easily accessible, these feature brackets that allow post sections to slide into the structure upon installation.
Bolt-on Rails Whether you choose single, double, or triple rails, these barriers involve specific installation with hand tools and drills and manufacturers hardware.
Gallery
Please select any image to view larger. Feel free to save any images you like to attach to our estimate request form.