Indoor & Outdoor Cages
Hurricane Fence Company installs both indoor and outdoor chain link cages. Chain link enclosures can protect your valuable property in both indoor and outdoor applications. Chain link cages provide excellent visibility. A combination of chain link applications and partitions allow facilities to choose storage environments that meet their needs and budgets.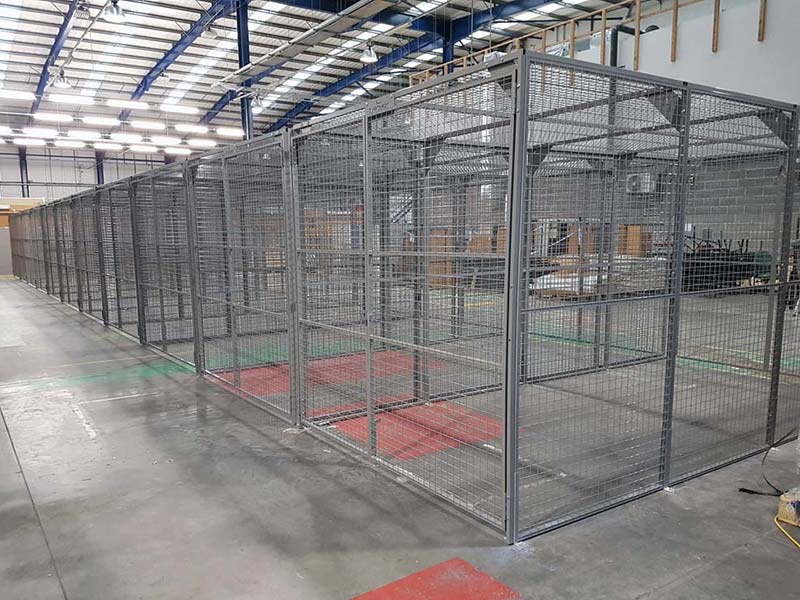 Indoor Cages
When secure storage is an inside job, a chain-link fence enclosure can be installed for items that require limited accessibility. Erected indoor chain link fences come complete with swinging or sliding gates for easy access and a locking system that ensures security. In a climate-controlled space, the open construction also simplifies maintenance of temperature and humidity costly ductwork.
Commercial properties can take advantage of chain link storage cages and store flammable substances or valuable goods.
Apartment complexes and landlords can use them to provide a storage unit for their tenants.
Commercial or government facilities requiring the security of equipment or files throughout the day or nonoperational hours.
Indoor athletic facilities can use indoor chain link as batting cages as well as storage.
Outdoor Cages
If what you are protecting is of great importance but doesn't require the consideration of temperature control or weather protection, an outdoor chain link enclosure can have many practical uses. Common uses for outdoor chain link cages include:
Batting cages
Ball practice & sports equipment storage
Storage yards & industrial buildings
Overnight storage for expensive construction supplies & equipment
Dumpster enclosures
Gallery
Please select any image to view larger. Feel free to save any images you like to attach to our estimate request form.