Almost all residential backyards have varying grade issues. The can affect a residential fence installation. By this I mean that the yard elevation will rise or drop in some areas. The human eye does not always easily notice these variations. However, they can be readily seen when a level string line is strung across the yard for fence grade comparisons. The lower grade areas become quickly apparent with this method. When installing a sloped fence onto an area that is especially hilly, you have a few different fence style options. The chosen style may actually be related to how steep the hill is, and this will also affect how the variable grade fence is actually installed.
One of the ways to install a fence that is affected by a slope is to run the fence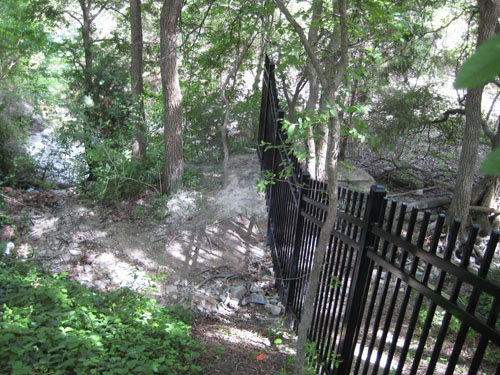 following the precise grade of the existing ground. As a result of the grade this fence will not be straight along the top, but it also will not have large gaps between the bottom of the fence and the ground.
The second option would run the fence straight or level at the top, however this would create gaps between the bottom of the fence and the ground. If area has a significant hill it may not be a viable option.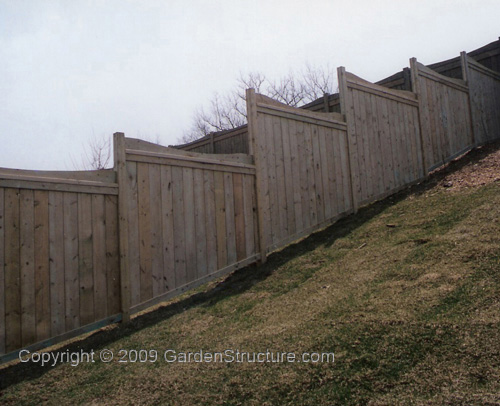 Another option would be to do what is called a stepped installation. Dropping the fence down at the locations where the grade changes the most or stepping it up where the grade rises does this.
All of these are options when installing a fence in hilly areas, but the type of fence material selected to be installed can be a factor in determining which of these is possible. For instance, some professional grade Vinyl (PVC) and aluminum fences are rackable while others are not. Rackable implies that they can follow the changeable grade of the ground to a limited degree. This quality alone allows for following grade while installing the fence. Wood Fence can typically be installed in any of the previously mentioned. This is great but it requires that the wood fence be constructed on site piece-by-piece and prefab fence panels are not used. Onsite fence fabrication allows for the exact measurements of the yard to be taken and adjusted to. Understand that this method is termed stick built wood fences and they are easily customized. Professional fence installers can be trusted to offer this method of erecting a wood fence. Chain link fence can be installed in any of the three ways if installed by the right professional.
When installing fence on a hilly area it is recommended to talk with your local fence professionals to see what type of fence and installation that would best suit you grade issue. Be very selective about your chosen fence company so you can achieve the goal of your quality fence project.
Article contributed fence professional by Mike Kelly