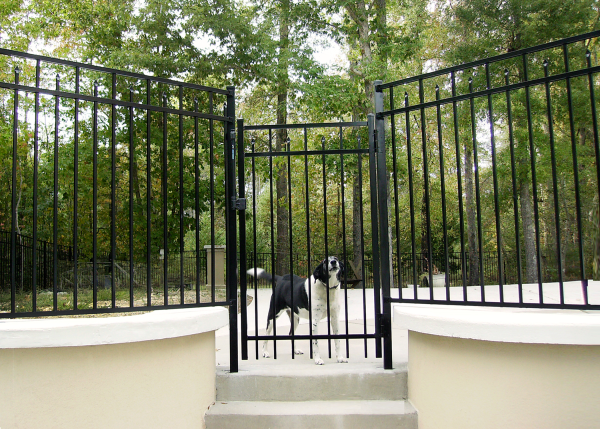 Yes indeed! Increasing the value of a property is avery fortunate byproduct of a well considered fencing project. A professional well-built fence really does benefit the your home's worth in terms of aesthetic appeal. At the same time it provides added safety, security, and privacy.
One could come that conclusion on their own when the time comes, but here are some other reasons why a professional fence system may be more of a "no-brainer" than you "think."
Curb Appeal: This one very important and evolving element of the residential fence industry.
No matter where you live, it's little to no coincidence that homeowners work hard in the effort to keep their property in good shape inside and out. The competition in today's real estate game requires that home sellers do all they can to get a leg-up. But an increased property value return is just the monetary aspect of this equation.
The psychology of this can be seen in the efforts of home owners to become or remain an asset to their neighborhood or community. Home owners understand that "Good Fences make Good neighbors," as Robert Frost so eloquently wrote years ago.
Staging: is the term used to describe the process of preparing your home or property for full view on the real estate market. Baiscally it means clean, de-clutter, and streamline the inside design elements and upkeep. Sellers routinely do this so that homebuyers can instantly visualize themselves and their belongings in the highlighted spaces within the house and on the property. So be sure to apply the same theory to your definitive outdoor spaces. An easy to achieve this is with the installation of a wood or vinyl privacy fence. Once the space has a defined tone, it should make the space welcoming for use.
Protection: One of the most most significant reasons for installing fencing for any residential space. These are security, privacy and containment of small children and animals and. While appraisers may add limited values to smaller homes with a simple privacy fence; homebuyers will immediately see the value of simply being able to protect their patio furniture and grill and garden. Pet owners and parents of small children (often first time homebuyers) will instantly see the benefits of a professionally installed fence.
Remember, a good quality fence will increase your property value while a poorly installed fence can actually decrease value after a few years of deterioration. Make sure you hire a reputable and experienced company with a quality product and secure installation methods. You could literally pay the price for a bad choice at re-sale time.Be visually selective and aesthetically aware. Gladly, there many fence alternatives for defining and decorating your outdoor residence.
Select a fence style that will complement your house and existing structures.

Materials for a more formal house may hint at wrought iron while a farm setting may be better suited to vinyl board fencing.

Colors that complement the house, out buildings and other structures are good. Is your home in a black wrought iron or white vinyl fence setting?

Install fencing per the manufacturer's instructions to keep on top of visual and monetary value.

Maintain the fence as needed. Painting, pressure washing and other routine maintenance are often required to maintain the appearance of a fence. Fences in disrepair can affect property value negatively.

Treating a wood fence at least every two years, or choosing a maintenance free fence options such as vinyl, coated chain-link or aluminum fence will pay off at resale.
A Professional Fence Specialist will be able to provide you with fence ideas and solutions. They should work with you to achieve your personal desired level of visual impact when deciding on fence products and serivces. Make sure that your fence professional is experienced as comes with good reccomendations. And when in doubt, always call Miss Utility, first!
*It is recommended before the purchase of a home or when planning to enclose your yard that you check with any related Homeowners Associations (HOA) to see what fence products or specifications are approved for the neighborhood.