Experiencing life on Virginia's stunning coastline—whether in the vibrant city of Chesapeake, the culturally rich Norfolk, the historical gem of Hampton, or the bustling Virginia Beach—provides awe-inspiring views and a tranquil lifestyle.
Yet, coastal living comes with its unique challenges, most notably, harsh weather conditions & salty ocean air. At the Hurricane Fence Company, we've proudly served the greater Chesapeake, Virginia Beach, Norfolk, Hampton, Suffolk, Portsmouth, and Newport News areas since 1994.
We understand how quickly the weather can change and the severe threats that high winds, storms, and salty coastal air can pose to our homes (and fences). Whatever fence style you decide, you deserve the peace of mind that it will stand the test of the elements.
In this blog post, we'll delve into how Hurricane Fence can provide you with personalized solutions to fit the needs of your property. Leveraging insights from our years of experience installing these pivotal security features, and our exclusive partnership with leading fence manufacturer, ActiveYards, we'll cover the specific needs of homes across Chesapeake, Hampton, Virginia Beach, Norfolk, and surrounding areas.
Together, we can ensure your home stands strong, regardless of what Mother Nature has in store. Read on to learn more, or contact us for your free quote at 757-853-5669!
Chesapeake & Norfolk
Chesapeake and Norfolk, two of Virginia's vibrant coastal cities, share a unique characteristic: they are a blend of coastal beauty and bustling urban life. Yet, this proximity to the coast also means exposure to the capricious weather patterns that the Atlantic can bring.
In response to these conditions, residents often choose aluminum and vinyl fences that seamlessly blend with any landscape while remaining resistant to the harsh coastal weather. Both require extremely low maintenance, even in coastal conditions. The Granite Aluminum ActiveYards Fence boasts 3x more salt protection than the industry standard.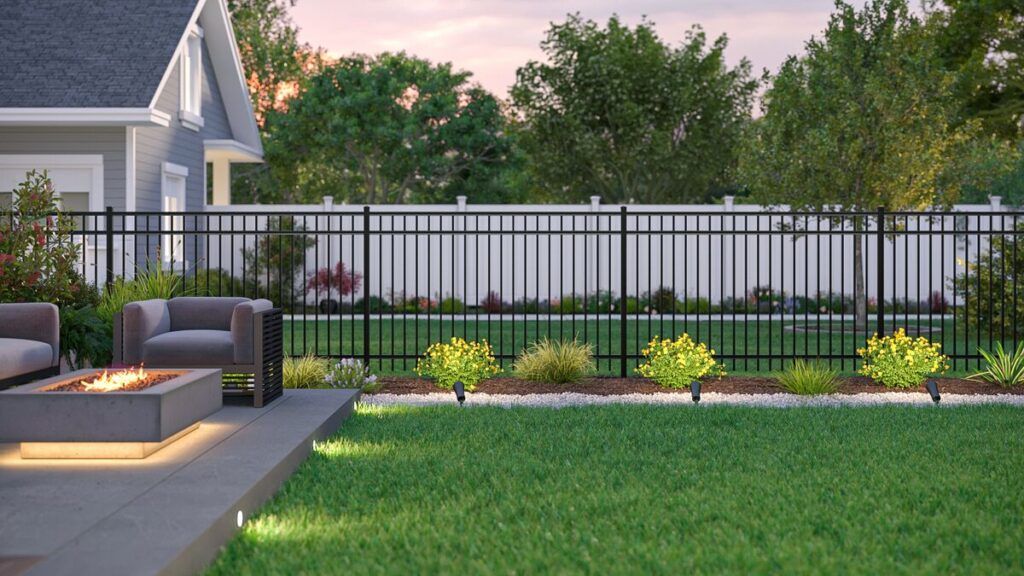 At Hurricane Fence Company, we specialize in providing robust fencing solutions to both cities. Our partnership with ActiveYards ensures the strength of our vinyl and aluminum fence materials, and our experienced team is here to make sure it gets installed quickly & professionally.
Hampton & Virginia Beach
Hampton, known for its rich history and numerous Civil War-era landmarks, presents a unique fusion of past and present while also dealing with challenges posed by coastal weather, particularly storms and hurricanes.
In this context, residents favor traditional wood fencing, which aligns with the city's historical charm. To enhance the durability of this material against harsh weather, we at Hurricane Fence Company provide high-quality, pressure-treated wood fencing options and specialize in their secure installation.
In contrast, Virginia Beach, celebrated for its picturesque ocean views and vibrant nightlife, balances city life with seaside relaxation. The city's coastal location exposes it to adverse weather and saltwater damage. As a result, residents prefer vinyl fencing for their durability, low maintenance needs, and classic coastal style.
Understanding the unique needs and aesthetics of Hampton and Virginia Beach residents, we offer a wide array of fencing solutions. Our commitment is to provide fences that not only harmonize with your home and city's character but also offer dependable protection against unpredictable coastal weather. Contact us at Hurricane Fence Company at 757-853-5669 for a free consultation and quote.
Newport News & Portsmouth
Newport News, home to a significant naval shipyard and abundant historical and cultural treasures, is located on the James River Estuary. This prime location, while rich in heritage, industry, and nature, also exposes it to the occasional harsh coastal weather, making robust defenses a necessity.
Homeowners here often favor composite and vinyl fencing. Composite fencing is prized for its aesthetic similarity to natural wood & stone (depending on design). They boast superior resistance to moisture, rot, and insects, a crucial feature in coastal humidity. Similarly, vinyl fencing is durable, withstanding time and weather, with minimal maintenance.
Portsmouth, characterized by its waterfront charm and naval heritage, is situated by the Elizabeth River. This maritime climate requires durable fencing solutions to stand against salty air and frequent coastal storms.
We frequently install aluminum and wood fences in Portsmouth. Corrosion-resistant & favored by many HOAs, aluminum fences are well-suited for salty sea breezes. Wood fences remain popular for their timeless aesthetic appeal.
Suffolk
Steeped in history and brimming with Southern charm, Suffolk offers an enticing blend of rural tranquility and urban amenities. As Virginia's largest city by area, it encompasses a diverse range of landscapes, from lush wetlands to bustling downtown areas. The city's geographical position, however, makes it prone to occasional coastal storms and the ongoing effects of humidity.
In Suffolk, homeowners often choose between vinyl, aluminum, & composite fencing, primarily for their adaptability to both rural and urban settings.
Each of these fences is particularly resistant to the humid conditions and occasional high winds that can affect the area. These fences retain their pristine condition for many years, making them a popular choice among Suffolk residents.
Coastal Virginia Living Done Right
Living on the coast of Virginia, in its picturesque cities filled with charm and history, is undoubtedly a unique and enriching experience. However, the unpredictable coastal weather also presents specific challenges, especially when it comes to protecting and securing your homes.
At Hurricane Fence Company, we are committed to helping you navigate these challenges with our range of sturdy and aesthetically pleasing fencing solutions.
Whether you reside in the tranquil city of Chesapeake, the vibrant Norfolk, the historic Hampton, the lively Virginia Beach, the culturally rich Newport News, the charming Portsmouth, or the diverse Suffolk, we have the expertise and resources to meet your specific needs. Our partnership with ActiveYards, a leading fence manufacturer, ensures that we provide top-quality fencing that can stand up to the rigors of coastal weather.
We take pride in our ability to offer personalized solutions to fit the unique needs and aesthetic tastes of your property. We understand that a fence is not just a practical necessity—it is a significant addition to your home that can enhance its appearance and curb appeal. Therefore, we strive to provide fencing solutions that blend seamlessly with your home's style and the character of your city.
Thank you for considering Hurricane Fence Company as your trusted partner in safeguarding your home against the elements. To learn more about our services or to receive a free quote, feel free to contact us at 757-853-5669.
Together, let's ensure your home stands strong against the forces of nature, enhancing the beauty and tranquility of your coastal living experience.