Fencing is an essential aspect of any construction project, providing security, privacy, and aesthetic appeal to the property. However, not all project sites are created equal. Some locations present unique challenges that require innovative fencing solutions to overcome. In this blog post, we will explore some of the most challenging project sites and the innovative fencing solutions that can be employed.
If you are faced with a challenging site, reach out to the experts at Hurricane Fence Company. We will find you the perfect solution.
Sloped Terrain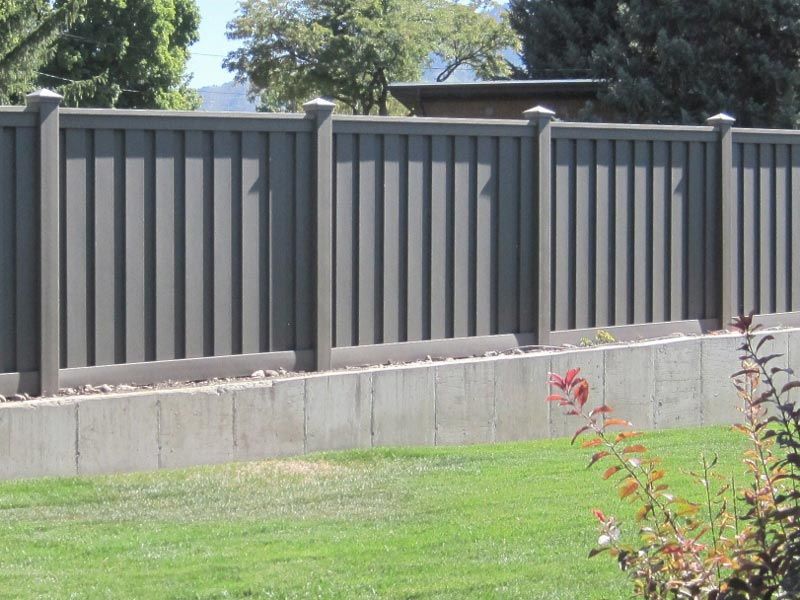 Sloped terrain presents a unique challenge for fencing. Traditional fencing methods require flat terrain and a level foundation to ensure stability. However, on a sloped site, traditional fencing can be difficult to install, and the result may not be stable or secure. An innovative solution to this problem is the use of stepped fencing. Stepped fencing follows the contours of the sloped terrain, creating a series of steps that provide stability and security. This type of fencing is both functional and visually appealing, making it an excellent solution for sloped terrain.
The use of retaining walls is also popular when dealing with a sloping site. Placing the fence on top of the retaining wall is a perfect solution if you are looking for uniformity in your fencing heights.
Urban Environments
Urban environments are another challenging site for fencing. In these locations, fencing needs to balance security and privacy with aesthetic appeal. In addition, urban fencing needs to be able to withstand heavy foot traffic, vandalism, and environmental factors such as pollution.
An innovative solution to this problem is the use of composite fencing. Composite fencing is a low-maintenance, durable, and attractive alternative to traditional fencing. It can be designed to match the surrounding environment, ensuring that it blends seamlessly with the urban landscape. Composite fencing is also highly resistant to vandalism, making it an excellent choice for high-traffic areas.
Chain link is also a great option. Chain link is highly customizable with several security-adding options and features. Razor ribbon, barbed wire, anti-climb wire, and more are available for chain link fencing, and can greatly inhibit any unwanted guests from entering your property.
Coastal Areas
Providing any kind of construction services in coastal areas can be challenging, mostly due to the unique weather and environment that come with being close to the ocean. The salt air, high winds, and heavy rainfall can cause traditional fencing materials to corrode and deteriorate quickly. An innovative solution to this problem is the use of vinyl-coated chain link fencing. Vinyl-coated chain link fencing is highly resistant to corrosion and can withstand the harsh coastal environment. It is also an affordable option that provides excellent security and privacy for coastal properties.
Opting for a vinyl-coated chain link fence also grants you the opportunity for customization, as the coating can be sourced in a variety of colors, meaning you don't have to settle for lackluster aesthetics to meet a site's security requirements. For an added aesthetic boost, consider sourcing custom-printed privacy screens for your chain link. Add your logo for further branding opportunities, or a simple design to make your property stand out.
High Traffic Sites
High-traffic areas such as schools, sports fields, and commercial properties require fencing that is both durable and secure. In addition, fencing in high-traffic areas needs to be highly visible to ensure safety for pedestrians and drivers. An innovative solution to this problem is the use of powder-coated aluminum fencing. Powder-coated aluminum fencing is highly durable and can withstand heavy foot and vehicle traffic. It is also highly visible, ensuring that it provides a safe and secure barrier for high-traffic areas.
In situations where a customer wants to limit or completely disallow vehicle traffic but allow for open pedestrian traffic, we always recommend the use of bollards. Bollards come in both stationary and hydraulically powered pop-up variants. Although pop-up bollards can cost a pretty penny, they are the quintessential solution for limiting traffic at high-security entry points.
Check out the work we did for Virginia's capital here. This site is a great example of how to properly control entry/exit vehicle/pedestrian traffic in a densely populated area.
Remote Locations
Remote locations such as farms, ranches, and large properties present some unique challenges. In these locations, fencing needs to be able to withstand extreme weather conditions and provide security for livestock and property. The most popular option we see for these properties is 3 or 4-rail wooden fencing. After the fence is installed, for extra safety, property owners typically opt to install chicken wire along the fence line. Adding this wire is an easily installed, cost-effective solution to keep livestock in and predators out.
Fencing in these areas also needs to be durable. As an owner of a remote property, the last thing you want is to have to make service calls every few months, as the mobilization costs for such properties are going to be higher than for an easy-to-reach/centralized location. Opting for a fence material that will last, even if the initial cost is higher, will end up saving you valuable time and money in the long run.
Site-Specific Fencing Needs = Covered
In conclusion, innovative fencing solutions are essential for challenging project sites. Whether you are dealing with sloped terrain, urban environments, coastal areas, high-traffic areas, or remote locations, there is a fencing solution that can meet your needs. By choosing the right fencing solution, you can ensure that your property is secure, private, and visually appealing.
If you are facing a challenging project site, don't hesitate to explore innovative fencing solutions with Hurricane Fence Company. We can help you overcome these challenges.
Contact Hurricane Fence today at 804-353-6030 for your free estimate.